Swedish massage is the most common type of massage and is the one most people are familiar with.  The main goal of this type massage is relaxation and stress relief.  The pressure used can be light to medium.  It combines long, gliding strokes with other techniques all designed to relax the whole body.
Techniques
This type of massage utilizes long, gliding strokes, vibration, tapotement (percussion-like tapping), friction, and kneading.  These techniques are combined or chosen depending on the needs of the individual client.
Benefits of Swedish Massage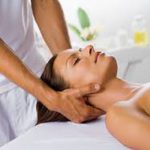 Most people understand that Swedish massage will relax you.  What most people do not realize is that it also provides many other benefits such as:
Increases circulation
Improves flexibility
Increases the amount of oxygen in the blood
Helps to flush out toxins in the muscles
Greatly decreases tension in the muscles thereby reducing pain
Decreases the levels of cortisol in the body (our main stress hormone)
Increases immunity to help fight colds and flu
Do We Offer Swedish Massage?
Yes.  Many of our sessions include Swedish massage but we combine Swedish with other techniques such as hot stone therapy and Hawaiian Lomi Lomi.  I have gotten a lot of massages in the last 15 years and the best massages I have ever experienced are those where the therapist uses more than one technique.
The sessions that we offer that have Swedish massage included are the 90 Minutes of Heaven, Traveler's Delight, Heavenly Relaxation Massage, Prenatal Massage, Couple Massage, etc.  For a complete list of our sessions CLICK HERE.
To Schedule Your Session
To set up an appointment just call or text Donna at 216-339-3401.
Back to SERVICES PAGE