Cleveland Couple Massage
The Best Value in Couple Massages in Cleveland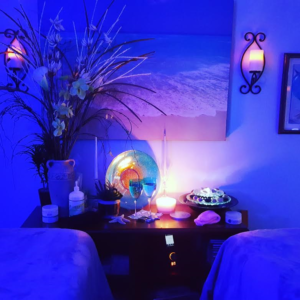 A special notice from the owner:  "People call us all the time price shopping trying to compare us with other places around town.  The thing is – you cannot really compare us to other places.  Other places only provide a REGULAR massage.  We include deep tissue for areas of pain or discomfort, hot stone therapy which is super soothing and highly effective in getting rid of pain and increasing the relaxation effect; and skillful relaxation massage.  If that were not enough, all of our sessions include our Heavenly Foot Massage which is done with a special therapeutic foot cream and we combine the hand work with hot stone massage on the feet!  Our sessions were created to be more like what you might find in a vacation resort or a world-renowned spa.  In fact, since opening in 2011, we have had many of our clients who are world travelers to comment and say the exact same thing!  Now how cool is that?!"  Donna Agrinsonis, LMT
Featured Testimonials
"Very nice couple's massage. Booking was accommodating and easy. Loved the hot stone massage. Very relaxing. Thank you and Happy New Year." Jon W.; Heavenly Stones Couple Massage – Dec. 2017
"Donna and Paula were lovely.  They made us feel very comfortable.  They both addressed our needs.  This was a wonderful first experience for me and my husband.  Highly recommend their services!"  Leah M. and Aaron P.; Heavenly Stones Couples Massage – Nov. 2017
"As a massage therapist, I know how hard it is to find a quality therapist on the fly.  She was much better than I anticipated; her pressure and thoroughness was amazing.  Honestly, the best massage I've ever had!"  Jason A.; Heavenly Stone Couple Massage – Aug. 2017
"My boyfriend booked this massage for me for my birthday and it was so amazing!  The hot stones were new to me, but they were very relaxing and made the massage perfect.  We will definitely be returning to Heavenly Healing Hands Massage in the near future!  Thank you Adrian."  Elizabeth H.; Heavenly Stones Couple Massage – Aug. 2017
Please note:  "Couple" to us simply means two clients plus two therapists in the same room; although we do offer the most romantic couple massage in town, many of our couples are mother/daughter, friends, co-workers, mother/son, etc.  All prices listed are PER COUPLE.  So one price for the two people.
Couple Massage Options
Heavenly Stones Couples Massage – Our Best Couple's Session!  If you have never experienced a massage with healing basalt stones being used between heavenly massage strokes you are in for a real treat. This session is the ultimate when it comes to deep relaxation. Heated stones bring about an intense sense of peace and tranquility and the experience is deeply soothing and restorative. Warmed stones are used on the arms, neck/shoulders, legs, and back to help clear toxins, soothe the nervous system, and gently balance your body's energy centers. Your session also includes a warmed stone foot massage which increases your overall energy level. Then, we take it a step further by using the stones in areas where clients have built-up areas of tension or discomfort to perform varying levels of deep tissue work. Clients report feeling super relaxed and rejuvenated. Many clients tell us that they are able to sleep much better for days after their session. $160 – 60 minutes per couple (reg. $180); $190 – 75 minutes per couple (reg. $210); $220 – 90 minutes per couple (reg. $240); $270 – 120 minutes (by doing a 2 hour session as a couple you save $90 because the single person 2 hour session is $180 just for one person!!)
Stressbuster Deluxe Couples Massage – Things like sitting at a computer for hours, long hours at work, dealing with demanding bosses, managing our kids' sports and activities, juggling career and home life, traveling, caring for children or aging parents, attending school while holding down a job, running a business, etc. all take an often silent toll on our health and result in extreme levels of unresolved stress. This session targets all the areas where most clients hold stress: neck/shoulders, lower back, and upper back (between shoulder blades), and the feet with deep tissue, hot stone therapy, and relaxation massage. Includes full foot massage utilizing warmed stones. Deep tissue on the feet helps to open up blocked energy so you should feel a burst of energy the day following your session. You will emerge rejuvenated, calm, centered, and refreshed. $160 – 60 minutes per couple; $190 – 75 minutes per coupleJ; $220 – 90 minutes per couple
Sports Bomb/Traveler's Delight Couples Massage – Need MOSTLY deep tissue work mixed with a little bit of relaxation massage?  Then this session is for you.  If you both work out a lot, travel a lot for work, are athletes, or simply prefer mostly deep tissue during your session we will combine hot stone therapy, deep tissue, a touch of relaxation massage, and our signature deep muscle therapy to bring you lasting relief.  The hot stone therapy helps to take muscle recovery to a whole new level and the hot stone foot massage will restore block energy centers and have you feeling like a brand new person! $180 – 60 minutes per couple; $210 – 75 minutes per couple; $240 – 90 minutes per couple
Prenatal Couple Massage – Enjoy the Prenatal Touch of Spa service with your partner. You will receive a prenatal massage and your partner will receive relaxation massage, deep muscle therapy, hot stone therapy and a hot stone foot massage. Choose music for your session from classical, smooth jazz, or spa scapes. Your certified prenatal massage specialist will provide a customized session for you which includes gentle deep tissue for your neck, shoulders, and back and warmed stones will soothe away nagging aches and pains. Your partner will receive a customized massage fit for a king. $160 – 60 minutes per couple; $190 – 75 minutes per couple; $220 – 90 minutes per couple
Booking Your Session
To book a session, simply call or text Donna at 216-640-6851.  We offer daytime, evening, and weekend appointments.  Everything is done by appointment.  No walk-ins.  For Valentine's Week sessions CLICK HERE.
Couples Massage Training – We have had several requests for this lately so we are once again offering our training for couples to learn how to deliver a soothing and therapeutic massage to each other.  The training includes basic strokes and routine training and actual hands-on time where you actually work on each other with my guidance.  Massage is a great way for couples to deepen their communication and understanding of each other and bring you closer together.  It can provide intense sensual pleasure as a prelude to lovemaking or can be a way to help each other de-stress during stressful times.  You will learn a simple neck/shoulder routine, back routine, foot massage, and full body routine.  If your wife does not know how to use good pressure when massaging you or your husband is too rough, the training will fix all that.  My main goal is to give my couples the skills and confidence to work on each other.  The longer session teaches advanced techniques and touches on aspects of sensual couple massage.  [These trainings must be booked ahead of time so that we can make room in the schedule.  Light refreshments are provided.]   3 hour training – $300
​Couples Training Testimonial:  "My wife and I had an excellent experience with Donna, she is very professional and clearly thought out the curriculum in detail. This is a fantastic activity that every couple can benefit from." Simon T. – May 2014
​Couples Training Testimonial:  "Wow.  Donna was able to show me how to actually use pressure on my husband that he loved!  Then she showed my husband how to work on me without being all ruff.  She obviously has a gift when it comes to teaching because she made the training fun and interesting and never once talked down to us.  I can tell she is super skilled yet she was able to simplify things enough for us to enjoy massage with each other at home.  And, to top it all off she served us some nice snacks and gave us information to take home on how to set up our own massage room and a full list of where to find massage supplies.  We could not have asked for more."  Jessica E. – February 2014
​
​
​
​
​